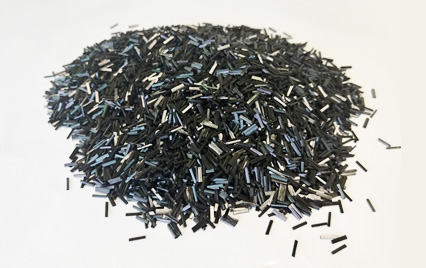 Products
Chopped carbon fiber is used as a reinforcing material and filler for thermoplastic and thermoset.

Sunyoung Industry has supplied the chopped carbon fiber with various sizings and in different staple length for the production of compounds.
And we can manufacture 1mm chopped carbon fiber.
We manage and conduct 'Quality Control System' on every LOT of chopped carbon fibers' processing as in a field of 'Sizing contents', 'Moisture contents', 'Bulk density' and finally the 'Length'.
Furthermore, Sunyoung Industry offers you with the premium chopped carbon fibers which has its own features in 'the excellent properties of mechanic', 'good electrical conductivity ', the 'dimension of stability' and 'the expansion of low thermal'.
Sized chopped carbon fiber
| Grade | Type | L-th (mm) | Sizing | Content | Application |
| --- | --- | --- | --- | --- | --- |
| SYC-TR-PU | Round | 1, 3, 6, 12 | Poly urethane | 2~3 % | ABS, PBT, PE, PC, PET, POM |
| SYC-TR-EP | Round | 1, 3, 6, 12 | Epoxy | 2~3 % | PE, PC, PPO |
| SYC-TR-PI | Round | 1, 3, 6, 12 | Poly imide | 2~3 % | PPA, PEI, PES, PEEK, PI, PPS |
| SYC-TR-PN | Round | 1, 3, 6, 12 | Phenolic | 2~3 % | Phenolic |
| SYC-TR-PA | Round | 1, 3, 6, 12 | Poly amide | 2~3 % | PA, LCP, PA6T, PPA, PA46, PA9T |
chopped carbon fiber without sizing
| Grade | L-th (mm) | Sizing | Content |
| --- | --- | --- | --- |
| SYC-NS | 1, 3, 6, 12 | Unsized | 0.2~0.3 % |
The properties of continuous Carbon fiber tow as equal to T700 grade
| | | |
| --- | --- | --- |
| Carbon content | % | 95 |
| Electrical resistivity | w.cm | 1.54 X 10-3 |
| Elongation | % | 2.3 |
| Tensile strength | mpa | 4,810 |
| Tensile modulus | gpa | 225 |
| Density | g/liter | 1.78 |
| Filament Diameter | µm | 6.97 |